The project SuLaMa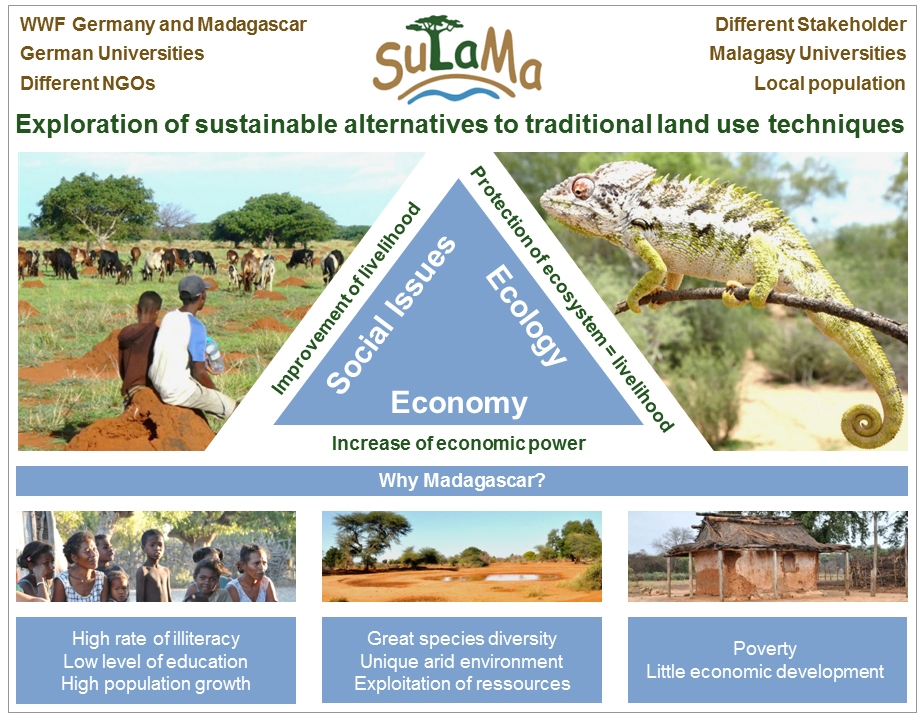 Participatory research to support sustainable land management on the Mahafaly Plateau in south-western Madagascar (SuLaMa = Sustainable Landmanagement in south-western Madagascar)
Population growth, increasing poverty, lack of education and the possible effects of climate change exacerbate the already existing pressure on ecosystems in many regions of the world.
SuLaMa aims to tackle this topic in one of the poorest and most climatically disadvantaged regions in south-western Madagascar – the Mahafaly Plateau.
The main objective of SuLaMa is the participatory development and implementation of alternative land-use management practices to protect the ecosystem and its biodiversity and improve the livelihood of the local population in a sustainable manner.
To zoom in the scheme, click on the image!

Video:

Introduction into the project SuLaMa with its importance for the population and the biodiversity on the Mahafaly Plateau in south-western Madagascar!

Video in Englisch
Your browser doesn't support video.
Please download the file: video/mp4

Video:

La Culture durable de l'arbre fourrager Samata